It takes a sharp eye, especially in short film, to create a film from a child's perspective and have it appeal to all audiences. In a few short minutes, however, POSSUM (Dave Whitehead, 2016) manages to view a first trip to the woods and hunt for a menacing creature through children's eyes, focusing on the joy of the chase and the excitement of the wilds that helps adults reimagine the joys of their youth.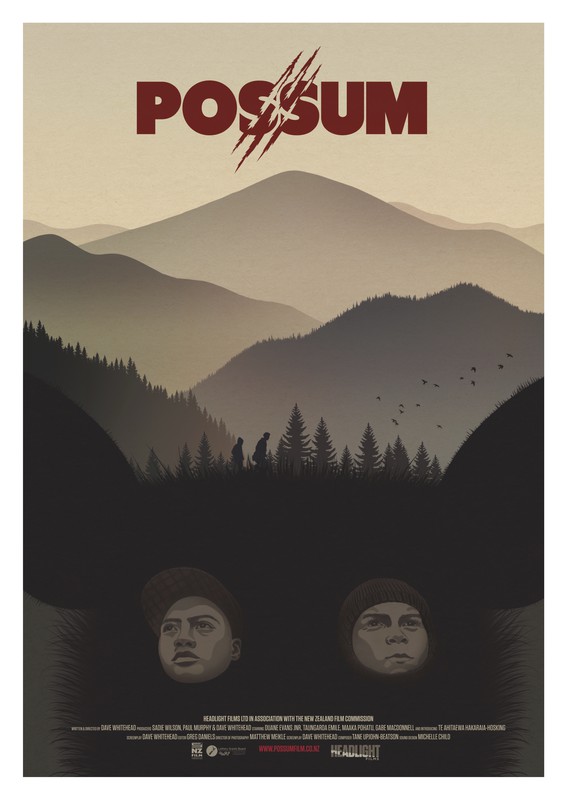 Somewhere in rural New Zealand, two young brothers go with the father (a nice turn by Taungaroa Emile) up the mountain on a camping trip. Nathan (the older child) is somewhat dismissive of his younger brother David, who is– to him– a bit of a whiner and a crybaby, like younger brothers always are. The first night, their dad's friend tells the two boys about a mean possum named Scar, who's old and ornery and a bit dangerous. When something visits their tent at night, they are fairly convinced that it is Scar, stalking and hunting them. As their dad chops wood out in the bush, Nathan and Daniel search out Scar to take him out.
Two elements of this film make it incredibly charming: its child actors and its embrace of the fantastic. Duane Evans Jr. and Te Ahitaewa Hakaraia-Hosking make for two excellent brothers, they bicker and play with each other like pros, and their search for Scar evokes memories of childhood trips of the past. Moreover, we get Scar point of view shots, puppet-like shadows of elk, and most importantly, a charming Scar animatronic that is made of a child's imagination. And of course, the New Zealand woods are beautiful and slightly dangerous, threading that line between awe and fear that usually creates children's worlds. Between the vast, sweeping landscape that makes New Zealand both massively gorgeous and strangely familiar and the sweet brotherly affective of two young boys, POSSUM earns its place a charming coming of age moment that never becomes saccharine or cliché.