5th Edition – 2022
Our 5th edition took place between 14th to 16th July, 2022 as a hybrid event .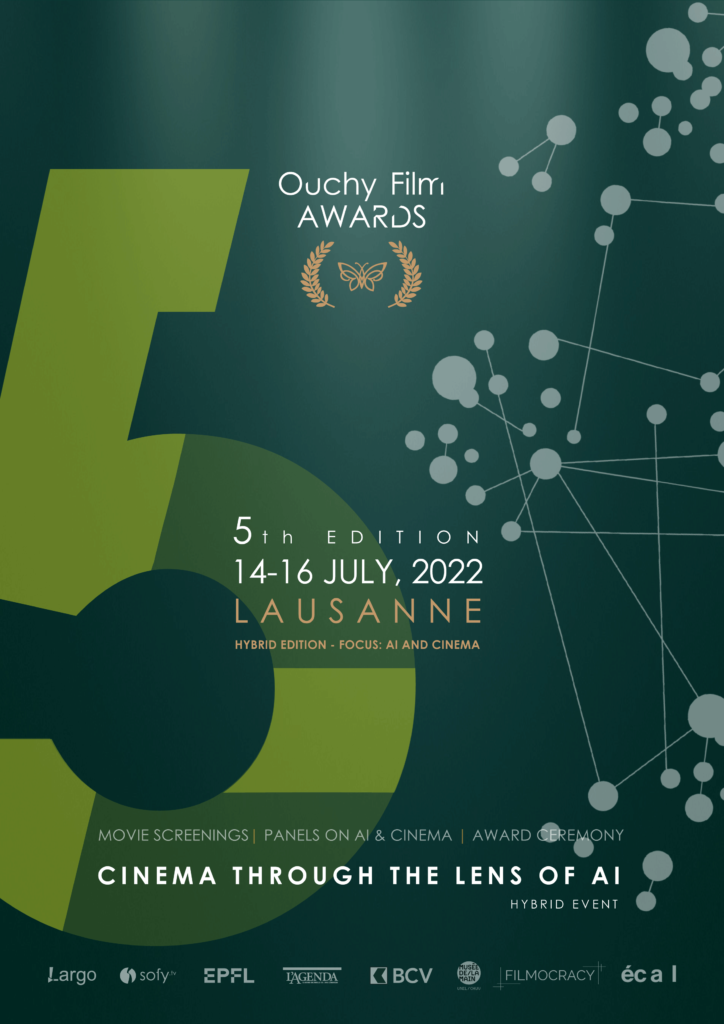 The public discovered 31 films (8 feature et 23 shorts), from 32 different countries.
We were delighted to have eleven filmmakers, coming from Switzerland, France, Reunion, Italy, Germany, Lebanon and Ukraine, with us to present their movie here in Lausanne!
We also welcomed professionnals from the cinema and data analysis fields to participate to 4 discussion panels on the use of AI in the film industry.
WATCH THE PANELS:
1. What is the future of film industry?
2. What problems can AI solve within filmmaking?
3. How does the human (artist) adapt to AI's suggestion?
4. Financing movies with the help of AI
---
NOMINEES
Our nominees were determined during 4 quarterly evaluation processes. You can find below the film and scripts that entered the official selection.
BEST FEATURE FILM, AWARDED WITH THE HELP OF AI
Pierre & Jeanne, Dir: Clémentine Célarié, Switzerland
Invisible, by Jeong Hee Jun, South Korea
Zugvögel, by Johannes Buchholz, Germany
Kontakti, by Toni Majaniemi, Finland
Dream 1991, by Matías Zemljič, Slovenia
The Anger, by Maria Ivanova Z., Lebanon
Mother of Apostles, by  Zaza Buadze, Ukraine
…
BEST SCREENPLAY, AWARDED WITH THE HELP OF AI
A Second Husband, by Tommy Britt, United States
Riding on Duke's Train – DDD, by Ken Kimmelman & Mick Carlon, United States
A Long Way Home, by Steven Bogart, United States
Hounded, by Joshua Allen, United States
Obadiah – A Pulp Fiction Prequel, by Phillip Hollins, United States
Capri, by Michael J Dunker, United States
The Crossing, by Fred Perry, United States
Getting Your Hair Cut in Indiana, by Rebecca Leigh, United States
Level Up, by Jason Skorski
South of the Border, by William Scott Williams, United States
Shark's Instinct, by Bethany Maines, United States
Don't Change Your Husband, by John McCloskey, United States
2060, by Cameron Barnes, United States
Deep Ascent, by J. Thomas Peterson, United States
Iron Lung, by Kevin Kraft, United States
The Second Coming of John Cooper, by Kevin Kraft, United States
…
BEST SHORT FILM, AWARDED WITH THE HELP OF AI
Feeling, Dir: Romain Argento &  Jérémy Chieusse, France
Montana 1977, by Kimyan Flückiger, Switzerland
Deus Ex Machna, by Jessy Langlois, France
Blackout, by Reza Didar, Iran
Beats, by Simon Pfister, Germany
Apple Tree, by Olya Azhnakina, Russia
The Boy and the Mountain, by Santiago Aguilera, Gabriel Monreal, Chile
Those Things are Known Horacio, by Pedro Chilibroste, Uruguay
The Scratch, by Alessandro Chirico, Italy
Figurant, by Jan Vejnar, Czech Republic
TILT, by Björn Schürmann, Germany
A Dead Sea, by Nahd Bashir, Israel
Théo, by Tanya Larcinese, France
Do Not Feed The Pigeons, by Antonin Niclass, United Kingdom
Frida, by Aleksandra Odic, Germany
Black Bag, by Lee Foster, Canada
Magpie, by Carola Del Bono, Italiy
The Flying Village, by Zoltán Gyarmati-Paor, Hungary
Sentier Paradis, by Lauren Ransan, Reunion Island
The Eighth Commandment, by Dario Lonjak, Croatia
Le Petit Prodige, by Xavier Diskeuve, Belgium

…
BEST ACTING, AWARDED WITH THE HELP OF AI
Loris Freeman in Pierre & Jeanne, by Clémentine Célarié, Switzerland
Margarita Sanchez in Love Exhaustion, by Sam Janot, Switzerland
Jay Johnston and Greg Furman in Wing Dad, by Lucas Åström, United States
Thomas Garbo in Princess of Jerusalem, by Nicolas Paban and Guillaume Levil, France
Kati Rausch in Tigerlilly, by Kati Rausch, United States
Yevhenіi Konoshchuk in Worried about the matches, by Angelina Turska, Ukraine
Miguel Angel Jenner Redondo in Dear Juan Manuel, by José Luis López Ortiz, Spain
Aloys Balcou in Théo, by Tanya Larcinese, France
Steve Kasan in Black Bag, by Lee Foster, Canada
Lluís Soler in Sea Light, by John Doe, Spain
Talma Tal in Out of Play, by Romi Menachem, Israel
…