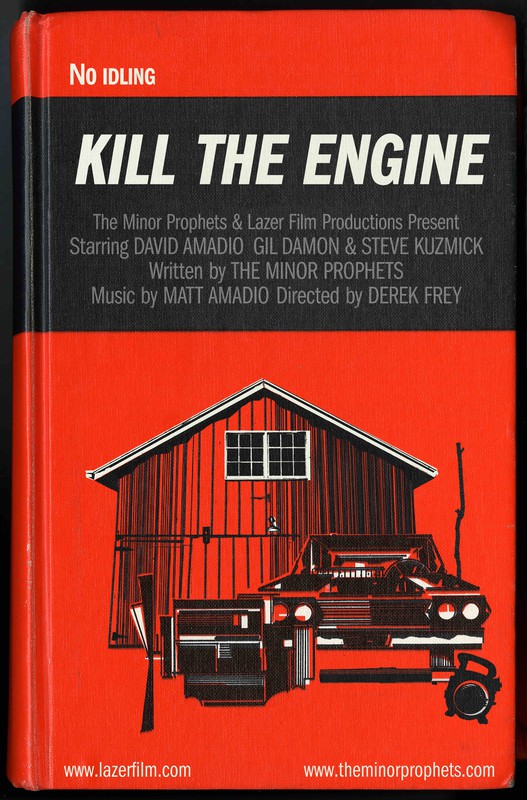 Derek Frey 2017 film, Kills the Engine, aptly exploits the one-act simplicity that makes short films their own art. The three protagonists have one goal, and—when initially thwarted—work together to fix their problem. Unfortunately, for them, their goal is to make their car work so that they kill themselves via carbon monoxide poisoning.
It is the simplicity, together with the gaps in the story, that make Kill the Engine funny. It tells us nothing of these men's stories, so we can't help but see them as slightly absurd incarnations of American pathos. Middle aged and average looking, they seem neither rich nor poor; brilliant nor stupid, or even particularly sad. In fact, their major obstacle in life appears to be their inability to get their mode of death up and running.
A lot of the comedy comes from their clear discomfort with mechanical work. When they attempt to jump the battery, they are terrified to even try for fear of being electrocuted. They also oddly decide to wear random children's sports helmets, presumably with the idea that these will somehow protect them against shock. The only thing it protects them against, however, is a bump on the head. And, when they are finally able to get their car running, their Friday Night Lights victory pleasure is short lived, as they realize what victory means.
While the slapstick is fun and the story tightly written, the movie does fall apart a bit if you think about it too much. Stories like this work best when there is a larger commentary or cultural critique underpinning them. Because the men aren't developed to be "real people," with real problems, they are stand-ins for societal types. Given the characters' inability to work with their hands and seeming malaise, it leads us to think that they may be stand-ins for emasculated men? If so, they lack the sharper critique of why that is interesting or important, making the film claim that that is, in itself, deserving of suicide. It could be their overreaction to societal norms that leading them to their sad condition; the film doesn't say (or have the space to tell us that). It's a fun ten minutes, though; it's probably best not to think too hard about it and enjoy the ride.